"Can Bhutan emerge from the process of modernization with its environment and culture intact?"
That's the primary question posed by Bhutan, the second documentary film I've had the pleasure to view from John Wehrheim and Bob Stone. Like their Taylor Camp, Bhutan is a visually ecstatic film which I'd love to see on the big screen, Blu-ray, or 4K.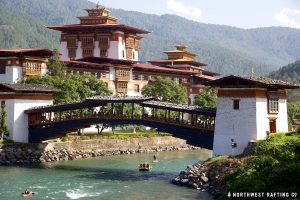 Directed by Thomas Vendetti, Ph.D., Bhutan utilizes a narrator along with interviews of political and cultural leaders, media agents, bureaucrats, and the Bhutanese people to tell the story of Bhutan then and now. The words globalization, modernization, Westernization, growth, and development are bandied about – used both as opportunities and challenges. I'm not sure, however, what they really mean in this context, and, especially, to the people using those words. That linguistic uncertainty may be another way of asking the question of what will happen to Bhutan.
The Himalayan kingdom of Bhutan has been receiving a modicum of global publicity by virtue of its many unique qualities – its size, 650,000 people; its Buddhist culture, ideas, practices, and values; and its history – it's never been conquered or colonized.
Bhutan joined the United Nations in 1971, as of the film's 2009 release, it's the least urbanized country in the world — it did not have television until 1999, the internet followed shortly thereafter. Keeping with tragically typical human history, shortly after TV and the internet were deployed, there was a dramatic increase of substance abuse and addiction, violence, burglary, and murder.
And there's the rub. Bhutan explores Bhutan at this time of inevitable change. The fact that the above question of Bhutan's fate can even be asked is cause for hope. The massive destructive, homogenizing forces of science, technology, industry, human over-population, and human greed mitigate, of course, that hope.
But there is great power and beauty in the unity of the Bhutanese and their values. If there is a nation on planet Earth that can preserve its soul and spirit, it is Bhutan. And the most exciting possibility is not only that preservation, but the emergence of Bhutan as an inspiring force to the people and nations beyond its borders.