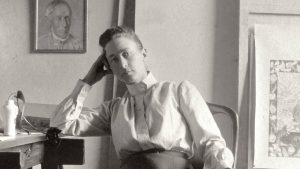 Halina Dyrschka's Beyond the Visible is the finest feature documentary film about an artist I have seen to date. The filmmaker unearths the story and work of prolific Swedish artist Hilma af Klint (October 26, 1862 – October 21, 1944). In a very short 94 minutes the film reveals an artist whose massive body of work had been buried and ignored by an illiterate, oblivious, and misogynistic artists' world for many decades. (As far as I can tell, this is Dyrschka's first feature documentary film—an amazing accomplishment.)
The central focus of the film are af Klint's abstract pieces she began painting in 1906. These paintings are considered to be the very first works of abstract art. She continued painting abstractions the rest of her career.
The body of af Klint's work is driven by her experiences and beliefs of a spiritual world. With an understanding that I am unqualified to make this statement, the impression I received having seen the many pieces presented in the film is that these abstract pieces are more than abstract. They include hidden symbolism 'beyond the physical.'
Dyrschka's film draws viewers into af Klint's worlds and keeps us thoroughly engaged and mystified throughout the film. I whole heartedly suggest viewers see the film via Blu-ray. The Blu-ray disc includes additional interviews, deleted scenes, a rich painting gallery, and trailers. Plus, you have the visual benefit of Blu-ray standards.
In addition to the visual world displayed in the film, Damian Scholl's music beautifully, perfectly reflects the virtues and qualities of af Klint's work.
I cannot overstate my recommendation to see Beyond the Visible.
Beyond the Visible is distributed by Kino Lorber.
(Photo of Hilma af Klint courtesy of Kino Lorber.)