Ed Artis is talking about his work, Adrian Belec is filming him: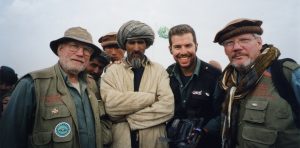 "We're not in the God Business. We don't want to change their politics or their religion. It must be high adventure. It must be humanitarian. And it's got to be in an area where few would ever go. If it doesn't hit those criteria, we're not interested."
Belic's film, Beyond the Call follows Artis and his core team—James Laws and Walt Ratter—as they travel to the most dangers places on Earth to help the most desperate people on Earth.
Belic interviews the three men in their respective U.S. homes and follows them on their insane, angelic missions around the globe. The incongruity of the two worlds the three inhabit—the bubble we call the United States of America and the war zones they go to—is befuddling and mystifying. The men speak and live altruism. Their words and deeds make us question our own values and actions.
The clichés abound: stunning, jaw-dropping, incomprehensible. Beyond The Call is documentary filmmaking at its absolute best.
In addition to the film's website, you can learn more about their work—past and present—by going to the Knightsbridge International website. This is the organization created to support and sponsor their work.
There is more information about the film at this PBS website.