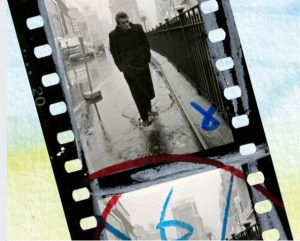 Beyond Iconic is Hanna Sawka's introduction to the work and thought of Dennis Stock, a photographer who, by the way, opines that the word, 'iconic,' is overused.
Sawka provides an outline of Stock's biography, and focuses on his work and teaching. We see Stock teaching various classes and speaking on-camera. Through it all he reflects on his work, life, and American culture.
Choreographed by a twist of fate, Stock became close friends with legendary actor James Dean. The two spent a considerable amount of time together providing the photographer with countless opportunities to shoot Dean. Sawka presents many of Stock's photographs of Dean in a variety of contexts.
'Zen' is how I describe Stock's approach to photography. That's my fallback conclusion being that I was confounded as to how to summarize his approach. He shot in black-and-white for most of his career, and did not hesitate to disparage Photoshop when given the opportunity.
Stock is a co-founder of the photographers cooperative Magnum Photos, and, in addition to this film, you can find much of his work here. The relationship between Dean and Stock was covered in a narrative film entitled Life starring Robert Pattinson. One Magnum photographer expressed his opinion that the movie mischaracterizes their relationship as adversarial, that the two had a collegial friendship. Having seen Beyond Iconic I suspect that photographer's opinion is accurate.
Stock was a jazz aficionado, and Sawka's inclusion of original jazz tunes by composers John Menegon and Teri Roiger provides a fitting backdrop to the photographer's work and world.
Beyond Iconic is distributed by Emphasis Entertainment Group.