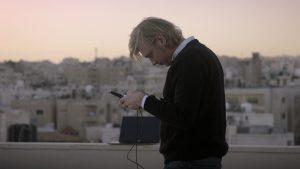 "Bellingcat doesn't have institutional support. They don't have a big building at The Hague, or Brussels where they do their work. They actually publish very detailed analysis, and many of them are volunteers, living at home. They don't have security.
"What they do is really risk a great deal to find out the truth in very complex situations that include major global players."
Professor Claire Wardle, Executive Director, First Draft
Written, directed, and shot by veteran filmmaker Hans Pool, Bellingcat: Truth in a Post-Truth World tells the story of the creation and dramatic evolution of the international citizen-journalist collective called, of course, Bellingcat. Founded by Elliot Higgins, and based in the United Kingdom, Bellingcat has become a major player in the much-needed and dangerous work of citizen investigative journalism.
As examples of their work, Pool covers the organization's investigation of the downing of Malaysian Airlines flight MH17, Syria's civil war, and the poisoning of Russian spy Sergei Skripal.
Reviewed by no less than Variety, Bellingcat: Truth in a Post-Truth World is an expertly produced, must-see documentary film.
Bellingcat: Truth in a Post-Truth World is a First Run Features film that will be released on DVD on October 13, 2020.
(Pictured: Bellingcat journalist Christiaane Triebert)