"She was more or less forgotten by the industry that she helped create."
Martin Scorsese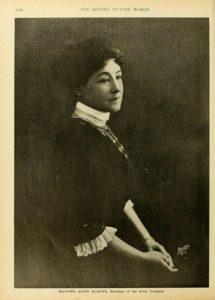 Abigail Disney, Hugh Hefner, Jodie Foster, and Robert Redford are just a few of the people responsible for the production of Pamela P. Green's Be Natural: The Untold Story of Alice Guy-Blaché.
They had one intention: Righting a wrong by unearthing the life, times, and contributions of this pioneering filmmaker who is credited with being the first female narrative film director.
Born and raised in France, Guy-Blaché (1873-1968) wrote, produced, directed, edited, and performed in countless films. She founded and ran Solax, a film studio in Fort Lee, New Jersey—the city considered the real birthplace of Hollywood. Over the first few decades of the 20th century, the absolutely crucial role she played in the emergence of filmed entertainment was gradually edited out of film history.
Narrated by Foster, the film follows Guy-Blache's work, her personal life, her ascent, her apparent disappearance from the filmmaking world, and the rediscovery of her pioneering role in filmmaking history. The film's title—'Be Natural'—is the advice Guy-Blaché gave to her nascent actors.
The film is fast-paced, extremely well produced, and leaves viewers with dropped jaws in response both to Guy-Blache's epic story as well as the high quality of this production honoring her legacy.
Unless one has zero interest in filmed entertainment, Be Natural is an absolute must-see. Yours truly will be viewing it at least one more time.
Be Natural is distributed by Kino Lorber.