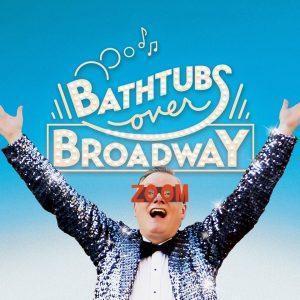 The title Bathtubs Over Broadway, may, like the film it represents, seem cutesy and quirky, but this documentary has a serious subtext—the profound story arc of Steve Young's fairy-tale journey through dark humor, into joy and compassion.
A writer on 'The Late Night with David Letterman' for 25 years, Young came upon mysterious vinyl LPs of cast albums of Broadway style musicals that promoted the interests of large corporations.
Curious and intrigued, the veteran comedy writer became a passionate—if not obsessed—collector of any and all things industrial musical. By virtue of his high showbiz status Young was able to garner easy access to writers and performers of industrial shows. His story's fitting climax finds Young co-writing, co-producing, and performing in an industrial musical celebrating, of course, industrial musicals.
Dava Whisenant's feature length directorial debut quickly pulls viewers into this hitherto unknown world, and one person's passion so intense he became a high-profile part of that world. A big festival winner, Bathtubs Over Broadway is a thoroughly engaging and delightful film.
(Pictured: A Fully Transformed Steve Young)