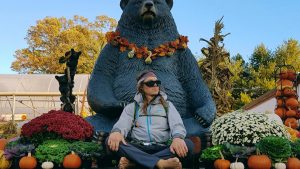 Barefoot: The Mark Baumer Story is a profile of, a eulogy to, and an homage to, of course, Mark Baumer (December 19, 1983 – January 21, 2017).
Our hero was a prolific writer and poet, and a passionate environmental activist. Mark died while walking along a roadside. Attempting to walk barefoot from the east coast of the United States to the west coast, he was killed when an SUV swerved off the lightly traveled road and hit the lone walker.
Baumer was on his Hero's Journey, an odyssey the purpose of which was to raise money for an environmental organization.
An only child, Baumer was beloved, intelligent, gifted, quirky, child-like, and energetic. He seems an amalgam of Wavy Gravy and Andy Kaufman.
Writer/director Julie Sokolow tells Baumer's story via his parents (Mary and Jim), his friends—and, especially, via our Hero who posts several video clips of himself a day on this daring pilgrimage. To state the obvious, this is a very emotional documentary film which immediately went on my 'best of' list of documentary films.
One of Sokolow's interviewees is Anna Heyward who wrote the following article for The New Yorker magazine: The Tragic Death of Mark Baumer, a Prolific Poet and Environmental Activist for the Social-Media Age
There is also a fundraising organization called Mark Baumer Sustainability Fund. When you go to this site make sure you scroll down to the section called 'MARK STILL WALKING' which consists of three or four posts a year by his father Jim.
Everyone has their own opinion. Mine is that Mark Baumer fully and successfully completed his Hero's Journey.