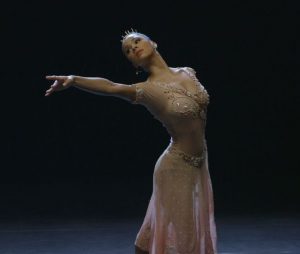 Veteran filmmaker Nelson George's A Ballerina's Tale tells the dramatic story of African American ballerina Misty Copeland who broke multiple barriers in the rarefied world of professional ballet—and found pop stardom along the way. In addition to the racial barrier, she broke morphological barriers with her curvy muscular physique.
In 2013, in the midst of her exciting ascent, Copeland performed the lead role in Stravinsky's Firebird at New York's Metropolitan Opera House. Although her performance was a triumph, she confessed to dancing in pain from previous injuries. Copeland spent many months overcoming a debilitating injury to become the first African American prima ballerina for a major ballet company.
George tells Copeland's story with aplomb—Copeland relates much of the tale, and we are treated to several performances throughout the film. The effect is simple—exciting, thrilling, and heart-warming.
The world of ballet will never be the same.