'Bag it' refers to the request of someone to put something in a bag. The term also refers to the request of someone to someone else to stop thinking or doing something.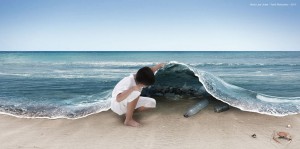 As I type these words I have two cabinets filled with the plastic grocery bags I've been hoarding over the last two years knowing that the ban is coming.
It's come.
Like most people, but unlike my professed environmental values, I've been dragging my feet when it comes to these particular plastic items that so conveniently line my kitchen trash basket, and are so helpful in transporting food items the containers of which may break or leak.
At this same time I've discovered director Suzan Beraza's documentary, bag it. Although the film was released in 2010, four years ago, its information is no less critical – and whatever changes in the statistics about the health and environmental damages of plastics may have occurred in this duration, they are likely exacerbated.
This horrific presence of plastic grocery bags in our world's environment serves as a springboard to Berzaza's broader and deeper look at many kinds of plastics in our lives. And, yes, of course, she does reference The Great Pacific Garbage Patch, but (spoiler alert) it's one of many such patches in our oceans.
But, all is not dark or bleak. Beraza uses the everyman-appeal of folksy Jeb Berrier as he hosts us on a journey around the world telling us the bad news about plastics – as well as the good news of what we can be doing and what we are doing to help solve the problems. Her strategy is effective. Someone knows my resistance to and pain of changing. Okay. Okay. Let me think what I might do.
A festival circuit winner, bag it is still having a strong run, reaching millions of people around the world. The film's link below lets you know how to see and share it.
http://bagitmovie.com/