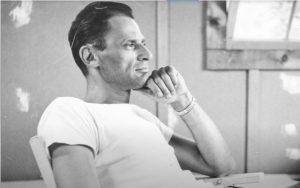 When asked what he would like his obituary to say about him, Arthur Miller responded with just one word, 'writer.' Hence, the documentary's one-word subtitle.
In Arthur Miller: Writer, accomplished writer/actor/director, and Miller's daughter Rebecca Miller tells her father's story—in a too-short 90 minutes running time. She captures his genius, flaws, and, especially, the arc of his character over 90 years of life. It is that character portrait I found most engaging. As the film progress I found myself looking for that something deeper that gave me a sense of the driving force of Arthur Miller's creativity. I found it in this brief dialog between father and daughter:
"You were prone to walk away from conflict, naturally," comments Rebecca Miller, addressing her father, "but in your plays, there's a continual kind of return to conflict."
"I suppose it's because there, I could live it out—in the literature, in the writing. Whereas in life, it was too painful, you see. So, the pain went into the writing, whereas it was hard to sustain it in real life. I think that's part of what happened."
"Why do you think that is?"
"I don't know, I just couldn't bear the idea of people trying to destroy each other, 'cause I sensed very early on that all real arguments are murderous. There was a killing instinct in there that I feared. So, I put it into the theater."
Like many of us compassionate humans, Miller was fearful of his id—our narcissistic and destructive impulses. At film's conclusion it appears Miller has found peace and wisdom, living a secluded life, his legend well established.
P.S. He was also a carpenter.
Arthur Miller: Writer is an HBO documentary film.