The Art of the Steal is an elaborate game of Clue, only instead of figuring out who murdered who, with what weapon, in which room; it's who destroyed one man's beatific vision, with what tactics, in which jurisdiction?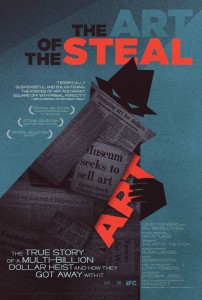 The film opens with these words: "In 1922 Albert C. Barnes, M.D., created the Barnes Foundation in Lower Merion, Pennsylvania, five miles from the center of Philadelphia. The Foundation houses the most important collection of Post Impressionist and Early-Modern art in the world." Then a direct quote from Barnes: "The Barnes Foundation would attack the enemies of intelligence and imagination in art, whether or not those enemies are protected by financial power or social prestige." Thus, the stage is set for a tragic culture war.
Barnes, who came from a working class background and supported his college education in the boxing ring, had and manifested a beatific vision – a gracefully, elegantly, and intelligently displayed collection of fine art in a beautiful building, surrounded by beautiful landscaping, and housing a school for artists. Although he used his considerable resources to protect his vision from encroachment and theft, his legal prowess and financial legacies were unable to protect this vision.
The documentary tells several stories: Barnes' biography focusing on his relationship with art; the history of his 25 billion dollar collection and the Foundation he established to protect and nurture it; his life-long battles with the government, leadership, and elite of Philadelphia, Pennsylvania; and the final battle to save his Foundation and vision – materially the building, grounds, and school, but just as important, the social, intellectual, and reverent environment of this center.
The Art of the Steal is a rich, expertly produced documentary with high production values which tells a surprisingly harrowing and sometimes agonizing story. It has brought national and international attention to a tragic injustice.
http://www.ifcfilms.com/films/the-art-of-the-steal