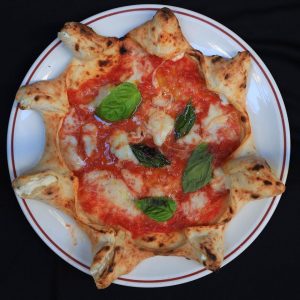 "Before bringing me to meet her family in Italy, my mother told me, 'you will find out who you really are.'"
Matteo Troncone
Had my mentor David Hakim not shared arrangiarsi: Pizza… and the Art of Living I would have never experienced the joy of Matteo Troncone's cinematic ode to Naples, pizza, and life.
According to the film's DVD cover, "arrangiarsi is the process of arranging yourself to make something out of nothing."
In his autobiographical film Troncone faces three challenges: finding himself, making his peace with money, and learning arrangiarsi. Over the course of the film Troncone triumphantly meets those three challenges.
Troncone, of course, is of Italian descent. His film escorts us back and forth between California and Italy, especially southern Italy, especially Naples, especially Neapolitan pizza.
Along the film's way we learn about Naples then and now—its history and culture, the joy of the people, and the only real pizza in the world. We also learn about Troncone and his family, share in his discovering who he really is, and, of course, learning to live life with arrangiarsi.
arrangiarsi: Pizza… and the Art of Living was written, directed, produced, photographed, edited, narrated, and arranged by Our Hero. The Solare Films DVD includes the following supplemental ingredients: Trailer, Deleted Scenes, Extras, and Photo Slideshow.