Winner of the 2000 Oscar for best feature documentary, Into the Arms of Strangers tells of the humanitarian exodus, in 1938-1939, of children from Germany, Austria, and Czechoslovakia to The United Kingdom.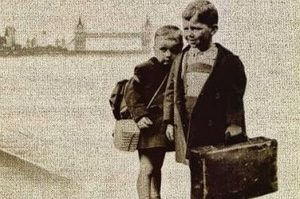 The transport was initiated and supported by the people and government of Great Britain. Ten thousand children were saved by the 'Kindertransport.' One million, five hundred thousand children lost their lives in the Holocaust. Most of those saved lost their families.
Written and directed by Mark Jonathan Harris, and produced by Deborah Oppenheimer, the film features interviews of 11 of the saved and several others who participated. Rare archival stills and footage mirror the events as the heroic victims unfold their gut-wrenching stories. The tragedy and triumph of their experiences and the raw courage of those sharing them combine to evoke powerful feelings of sadness, anger, frustration, helplessness, and awe.
The old adage applies: "The map is not the territory." A film review is not the film. One cannot anticipate how deeply she or he will be touched by Into the Arms of Strangers without sitting down and letting its people, images, and sounds sink in, past our preconceived thoughts and our many defenses.
http://www2.warnerbros.com/intothearmsofstrangers