An Apology to Elephants is yet another demonstration of the visceral power of film. In thirty-nine short minutes we are struck with images and stories of our abuse, torture, and exploitation of elephants. We are also informed – or reminded – about the many virtuous qualities these intelligent beings possess and manifest, virtues that only serve to amplify the horrors of our treatment of them.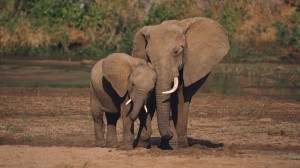 Like almost every film which documents human beings' mean-spirited, destructive behaviors, this film also shows the efforts of some of us to ameliorate the damaging effects of our behavior. We learn of the Oakland Zoo which lost a keeper to an elephant attack in 1981. The tragedy set the zoo on a path to create a six acre sanctuary for elephants, and to use only positive reinforcement in influencing the elephants to cooperate with their veterinary care.
Then there's PAWS, Performing Animals Welfare Society, founded by former animal trainer Pat Derby in 1984. It began as a 30 acre sanctuary in Galt, California, and has grown to a 2,300 acre ARK 2000 sanctuary in San Andreas, California. Derby's love for and empathy with elephants softly explodes on the screen as she passionately presents and speaks of the elephants under her care.
The power of this film to horrify, infuriate, and, hopefully, inspire derives directly from the power of it makers. An Apology to Elephants is executive produced by Lily Tomlin and Jane Wagner. Wagner wrote the narration, Tomlin narrated. Prolific, hugely lauded filmmaker Amy Schatz co-produced and directed. It is an HBO production originally cablecast spring of 2013.
http://www.hbo.com/documentaries/an-apology-to-elephants#/
http://www.oaklandzoo.org/