Produced and directed by prolific filmmaker Dena Seidel, Antarctic Edge: 70° South follows a research team of the Long-Term Ecological Research (LTER) project at Palmer Station, in the Antarctic. Based on an ice breaker, the team are on a month-long expedition documenting the effects of global warming on the continent.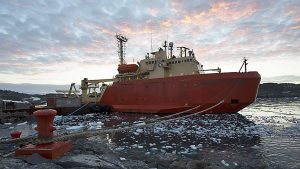 The Antarctic is a geological yellow canary for global warming. The average winter temperature has increased by 11° in the last 50 years—six times faster than the global average. The presence of wintertime ice sheet has been reduced by three months. The melting of the continent's ice sheet has been declared unstoppable.
The film brings viewers on the expedition, following and hearing from the researchers and crew about their work. The photography is exquisite, the work is fraught with risk, and all involved—including the filmmakers—are motivated by the noble cause of protecting our fragile ecosystem.
I thoroughly enjoyed being on this journey, and would love for it to have been at least twice as long as the film's 72 minutes.
"Antarctic Edge: 70° South" was produced by Rutgers Film Bureau, and is distributed by First Run Features.
http://firstrunfeatures.com/antarcticedgehv.html
https://beyondtheice.rutgers.edu/
http://www.masongross.rutgers.edu/filmmaking/rutgers-film-bureau