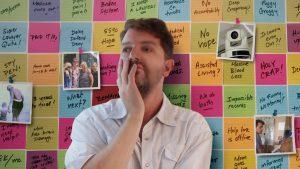 September 8, 2019
I had occasion to contact filmmaker Steve Burrows recently with an inconsequential question. After that was laid to rest I asked him what's next in his professional life, and he gave me an unanticipated dramatic earful about the incredible success of his 2018 film, BLEED OUT—about injuries and deaths caused by medical errors—the 3rd leading cause of death in America.
Made on the proverbial shoestring budget, shot over a ten-year period, and with mostly a smartphone and other very small cameras, BLEED OUT has found distribution via HBO as well as a plethora of web-based platforms. Finding effective distribution is one thing, actually making a difference in the world is quite another—the whole point of placing your film in the world—and that is what BLEED OUT has done, and is doing.
BLEED OUT tells the story of the harm done to Steve's mother, Judie, from a cascade of medical errors. The film is a powerful clarion call for reform, accountability and transparency in American health care.
Burrows writes, "Our film continues to kick ass across all sectors in America, public and private. It has struck a deep nerve. The sense of urgency is palpable. Doctors, hospitals and medical schools across the country have been screening our film and are on-the-record stating BLEED OUT is literally saving lives!'"
Here is a link to a 3-minute clip of healthcare practitioners advocating enthusiastically for the film's message
Here is a link to the film's website
Link to my January, 2019 review