Produced, written, and directed by Frieda Mock, Anita: Speaking Truth to Power tells the story of African American Anita Hill who, in the fall of 1991, at a United States Senate Judiciary Committee Hearing on the confirmation of Clarence Thomas as a member of the United States Supreme Court, testified against that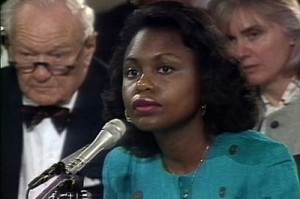 confirmation on the basis of her experience of being sexually harassed by him during her employment at the Equal Employment Opportunity Commission when Thomas was director of that governmental organization.
The investigating committee consisted of 13 Caucasian men who put Hill on trial, and Thomas' nomination by President George H.W. Bush was approved. Theodore Kennedy and Joseph Biden were members of this Committee which was driven by unresolved national issues of race, gender, and economic injustice – issues which continue to be unresolved – if not exacerbated since then.
As I watched the scenes of this highly public testimony, I found myself in complete awe of the grace and dignity with which Anita Hill responded to the Committee's attacking, insulting questions.
Hill became both a national hero and villain. She endured brutal attacks on her integrity and dignity by the committee and many Americans, and lived many years under threats of injury and death.
Mock's film tells the story of Anita Hill, her trial by fire, and the positive social impact her courage has on the social fabric of the United States.
Hill is Professor of Social Policy, Law, and Women's Studies at Brandeis University, and a prolific author.
http://www.samuelgoldwynfilms.com/