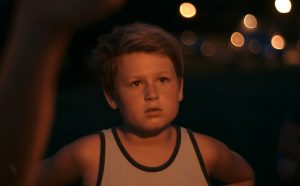 Directed by Katrine Philp, An Elephant in the Room highlights the work of Good Grief—an organization that provides support to children who have lost parents or siblings. The film has no narration. Instead we are with the children, their facilitators, and the childrens' remaining family caregivers as facilitators do everything they can to compassionately support their charges' healthy grieving process.
Although grief is an intense, painful emotion which includes crying, this film is not maudlin. Instead, we witness healing conversations and interactions between the kids and their caregivers.
Good Grief's website includes a succinct description of their history and work which I include at the end of this review.
An Elephant in the Room is an important documentary film which offers insight and hope in the caring and support of grieving children. The more people who know about and utilize these services, the faster and healthier will childrens' losses be healed. It is in that spirit that I suggest you share this review far and wide, or simply share the availability of these services for children.
"Good Grief started in 2004 with a group of concerned volunteers who believed grieving children lacked advocates. In those early days, we began by educating teachers and community groups. In 2007, Good Grief started providing direct programming to children and their families. The need and response was tremendous, requiring Good Grief to grow our programs each year. In 2012, Good Grief responded to the emerging need of families traveling long distances to Morristown by bringing Good Grief programs to Princeton. In 2017, we launched our first satellite location for urban youth through our In Community program in Jersey City, which expanded to include Newark programs in 2019. In 2017 we also launched Routes to Resilience, a social-emotional learning program that is based on over 15 years of education and programs.
"While we are best known for the thousands of lives we have impacted through our direct programming, our comprehensive education and advocacy efforts throughout New Jersey and across the nation have acquired notoriety and prestigious partnerships, including Sheryl Sandberg's Optionb.org, KIPP NJ, Boys and Girls Clubs of America, Big Brothers Big Sisters Essex, Union, and Hudson county, Arizona State University, Duke University, Scholastic, National Funeral Directors Association, Outward Bound Adventures, the National Alliance for Grieving Children, and more."