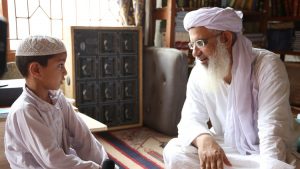 Among the Believers is as horrifying and gratifying a documentary as I've ever seen. Directors Hemal Trivedi and Mohammed Naqvi were given rare access to Abdul Aziz Ghazi, an Islamic cleric in Pakistan who—as of the time of production—heads a network of madrassahs called the Red Mosque. These are schools where children live and study. They are required to memorize the Quran—and learn no other subjects. Aziz promotes the severest interpretation of Shariah law. His schools cultivate terrorists.
Countering Aziz is nuclear physicist Dr. Pervez Hoodbhoy who stands for non-violence and moderation. The film covers seven years of what appears to be an unending civil war in Pakistan—if not the entire Islamic world—over religious practices.
Distributed by First Run Features, Among the Believers is a window on a world we hear about, speculate about, but never see. This is a rare film, and I cannot recommend it enough. It captivates its viewer and never lets go.