Patrick Branson's first feature documentary, America's Blues will have you singing the… well you know what you'll be singing.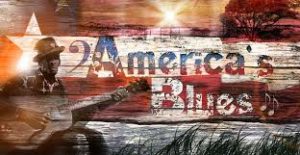 Branson interviews blues performers, historians, activists, authorities and experts, and blues-influenced artists. They all testify to the power and influence of the blues on the evolution of music and on our lives—nationally and globally. By film's end you'll be convinced that the musical genre called 'blues' is ubiquitous, that everything comes from and is the blues. I am not being facetious.
With its roots in the African American experience, the blues is at core about loss. And loss is an unavoidable human experience derived from the seeming fact that finitude is intrinsic to our universe. (Caution: This is what this film may do to you.)
And this is my point about Branson's film. He has fully covered the blues, and in so doing provided an outline of sub-topics the viewer may use to start their own doctoral program in the blues. Keep a portable digital device or pad of paper handy as you watch this movie—not so much for future academic research, but to note the names of many of the film's performers that are new to you. I amended my Pandora account immediately after seeing and hearing "America's Blues".
http://www.americasbluesmovie.com/