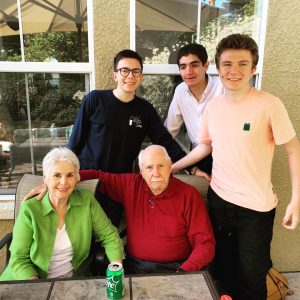 "A couple of teenagers with a Twitter account, and a former Senator from Alaska have been able to put ourselves in front of the political establishment—jarringly. We're in the face of the Democratic electorate, and I think we're making a difference."
Henry Magowan—Politically Active Teenager
Mike Gravel (May 13, 1930 – June 26, 2021) was a United States Senator from Alaska. He made a 2008 run for the Presidency. His politics were decidedly liberal. I do not know the precise origin of this story, but here's what transpired:
A group of high school students—David Oks, Henry Williams, Henry Magowan, Elija Emery, Alex Chang, and Jonathan Suhr—with a strong liberal bent set out to give the then 89 year old politician another run at the Presidency.
Directed by Skye Wallin, American Gadfly follows the students as they work with Gravel and make a run for his place on the debate stage. There were two criteria needed to get on that stage: the number of donors and a polling criterion. The students managed to collect enough donors, 65,032, but missed the polling criterion which takes precedence over the number of donors.
The old adage applies, 'it's not the goal, it's the journey.' This run was important for, and gratifying for all the participants. The story is not over. Two of the students presented at the Young Democrats of America National Convention. And the group sparked the creation of The Gravel Institute.
Perfectly crafted, American Gadfly is another example of the growing number of young people taking responsibility for themselves and their world.
The film is currently playing at the Mill Valley Film Festival, on October 11 and 12, and will be available virtually on the Mill Valley Festival website for the duration of the festival.
The Gravel Institute
(Photo courtesy of 'American Gadfly')