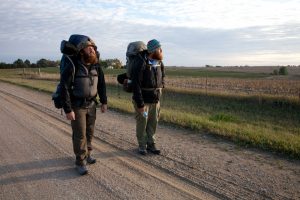 Almost Sunrise begins with this text:
"'Moral Injury' is a wound to the soul caused by participation in events that violate one's deeply held sense of right and wrong."
Although not a prolific filmmaker, when Michael Collins makes a feature documentary, it is powerful, compelling, and haunting. His first feature, 'Give Up Tomorrow,' is unforgettable, as is Almost Sunrise, the story of two deeply wounded veterans of the Iraq war—wounded in heart and soul.
Iraq war veteran Tom Voss was suffering from PTSD, his marriage was on the line, his very life, too. Although a seeming non sequitur, Voss decided to go on a 2,700 mile trek from Wisconsin, to the Pacific shore of southern California. Anthony Anderson, his brother-in-arms also suffering greatly, joined him.
The two became a cause célèbre which was intended, of course—but the focus was on their healing from 'moral injury.' In a short 98 minutes, Collins covers the entire journey from before the beginning through after the end. In addition to their secular pilgrimage, the two found healing from unexpected sources.
This is yet another war-related documentary film that needs to be seen by all members of the United States Congress, Senate, the President, his or her Cabinet, and by the leaders and bureaucrats of our Veterans Administration. Many—if not most—veterans, are still not receiving the care and healing they deserve. In that light, I whole-heartedly encourage you to see and share Almost Sunrise.
I also suggest you visit the film's website and click on Take Action where you can join me in signing the "Pledge to support Almost Sunrise in the movement to promote and expand complementary and alternative wellness programs for veterans and their families."