Alive Inside tells the story of Dan Cohen's discovery that when people suffering from age-related memory loss – my preferred term for the various kinds of ways we lose memory – are given iPods with headphones playing musics from their past, they come alive.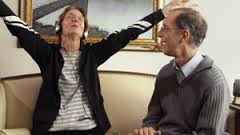 Cohen's story arc is one of struggling to make available iPods and headphones for every resident in every nursing home in the United States, to finding multiple funding sources, appearing on CNN, and more importantly, having a short video of a resident listening to music for the first time in many years seen by millions of people via social media.
And now, of course, Cohen's arc includes this totally inspiring documentary that not only tells his story. but gives an outline history of how the United States has taken care of and not taken care of the elderly.
Writer/director Michael Rossato-Bennett juxtaposes jaw-dropping, heart-warming clips of elderly people finding aliveness and new meaning in their lives with equally powerful interviews of physicians and others who, on the basis of both their experience and authority, provide solid support for Cohen's observations and mission.
Alive Inside is a must-see.
http://www.aliveinside.us
http://musicandmemory.org/