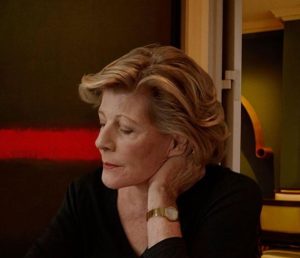 Agnes 'Aggie' Gund was born in 1938, in Cleveland, Ohio. She bore four children one of which, Catherine Gund, has directed this fast-paced documentary about her mother's life and times.
Aggie's work was sparked at the age of 15 when she had an art history teacher who "didn't just give you the artist's name and the date of the picture, she showed you how to look at artwork." Her Bachelor's degree was in history, her Master's degree was in art history from Harvard's Fogg Museum, and her honorary doctorate degrees came from seven prestigious schools. Yet, there is much more to Agnes Gund's life story.
Aggie became a beloved icon of the art world, but her inborn empathetic character could not, would not stop her there. Aggie is internationally recognized for her support of artists—particularly women and people of color—and her commitment to social justice issues. She founded the Art for Justice Fund which makes direct grants to artists, and advocates safely reducing the prison population, and creating art that changes the narrative around mass incarceration.
Aggie is President Emerita and Life Trustee of the Museum of Modern Art, Chairman of its International Council, as well as Chair Emerita board member of MoMA PS1. These positions mark just the tip of the proverbial iceberg. Her Wikipedia page presents the breadth and depth of Aggie's accomplishments.
Daughter/filmmaker Catherine takes viewers on a jaw-dropping ride through Aggie's life and times, seeing and speaking with and about artists, their works, as well as her deep social justice concerns and activism.
In addition to learning about Aggie, viewers are treated to a dizzying nonstop montage of paintings. Yours truly will view this lovingly made film at least one more time to take in the impacts of the artists' works.
Aggie is produced by Aubin Pictures, and distributed by Strand Releasing. The film is available via iTunes, Amazon Instant Video, Google Play, Vudu, and DVDs.