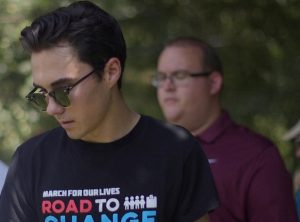 Right now, February 8, 2020, you go to IMDB and look up 'after parkland' and you can see the film's rating, 6.6 on a scale of one to ten—based on 23 raters.
Did they even see this devastating documentary about the February 14, 2018, shooting of 34 students by a lone gunman at Marjory Stoneman Douglas High School in Parkland, Florida, leaving 17 dead and 17 wounded?!
In After Parkland filmmakers Emily Taguchi and Jake Lefferman capture the grief, loss, healing, hope, and actions of students and families of MSD High.
The film focuses on a few people: Parent Andrew Pollack who lost Meadow, his 18-year old daughter to nine bullets. Parents Manuel and Patricia Oliver who lost their son Joaquin, who is also grieved by friends Victoria Gonzalez and Dillon McCooty. We also hear from students Brooke Harrison, Sam Zeif, Lauren Hogg, and David Hogg who became a national activist against gun violence. Even people with 'hearts of glass' may find themselves sharing in the grief and loss expressed by the people in this film.
As the film's closing approaches we learn about the local and national movements to protect students and end gun violence that emerged from the horror called 'Parkland.'
This film is an absolute must-see. The story is equally gut wrenching and inspiring. I am the film's 24th IMDB rater, and, of course, I give it a much-deserved 10.
After Parkland is a Kino Lorber release.
(Pictured: Activist David Hogg)