With exquisite cinematography Act of God explores the relationship between randomness and meaning through six stories of lightning strikes and one about brainwaves which are an artifact of neural activity, which, in turn, is an analog of lightning.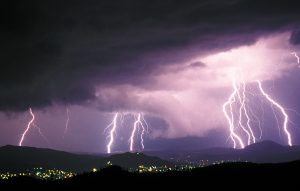 Director Jennifer Baichwal and cinematographer/husband Nick de Pencier went around the world making what the subtitle calls 'meditations,' and what I call a cinematic poem.
Viewing the film, hearing stories of tragedy and miracle, and, especially, hearing the film's subjects speak their thoughts and feelings inevitably catalyzes a healthy self-reflection of one's belief system.
The Zeitgeist Films DVD contains special features which include an interview with Baichwal. Although I risk her scorn, this is that very rare film that I suggest you watch the filmmaker's interview prior to seeing the film. It provides a bit of clarity without tainting the poem.
https://zeitgeistfilms.com/film/actofgod