The Act of Killing focuses on the 1965 genocide in Indonesia.
The film's introductory text states:
"In 1965, the Indonesian government was overthrown by the military. Anybody opposed to the military dictatorship could be accused of being a 'communist'—union members, landless farmers, intellectuals, and the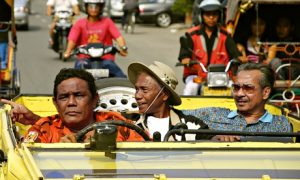 ethnic Chinese.
"In less than a year and with the direct aid of western governments, over one million 'communists' were murdered.
"The army used paramilitaries and gangsters to carry out the killings. These men have been in power—and have persecuted their opponents—ever since. When we met these killers, they proudly told us about what they did.
"To understand why, we asked them to create scenes about the killings in whatever ways they wished."
What follows this text is two hours of unrepentant mass killers speaking of their past glory, and reenacting their killings—for film, with the documentary filmmakers' production help.
I confess: I don't fully understand how or why killers recreating killings provides or enhances our understanding of killers. I do know seeing and hearing these men speak of their actions and acting out the scenes of these murders is an horrific experience, a vision of human beings at their cruelest.
I've written in the past of my North Carolina friend telling me of her word for documentary films—'medicine movies.' This is one of the hardest-to-swallow medicine movies I've seen.
Two of the three principal 'players' in the film share the pride and joy of their murderous pasts and current status as feared-and-revered political operatives. The third killer participates fully, but is clearly struggling with guilt.
I highly recommend this film with the not-surprising caveat, 'buyer beware.' I'm haunted by a few movies and documentary films. The Act of Killing instantly joined this small group.
I'm in awe of the filmmakers—their courage in making themselves vulnerable to this world of genocide and the dangers they faced in the film's extensive research and production.
I'm not at all surprised that The Act of Killing made it on the Academy of Motion Picture Arts and Sciences 2013 'short list' of 15 documentary feature films from which the five nominated films were culled. As I watched the film I found it very hard to imagine seeing it nominated. Concurrently, I found it very hard it to imagine not seeing it nominated.
And let's not forget the not-so-sub subtext: Western governments supported this genocide. All for the sake of profit.
http://theactofkilling.com/