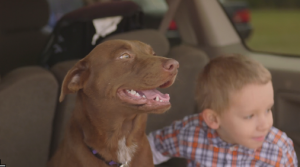 Between three and four million adoptable pets are euthanized annually in the United States. Some are euthanized compassionately, the rest are put into bins and suffocated in one manner or another.
Michael Samstag's and Josh Gildrie's A Southern Fix offers solutions to stem this tide of slaughter. The film begins with the usual unhappy news and images about our lack of care, let alone our mis-care of animals, but the film quickly goes on to feature people and organizations doing all they can to end the slaughter, and to provide loving homes for cats, dogs, and the occasional Pot-bellied pig.
The film features passionately dedicated people many of whom are volunteers working on animals' behalf. This is the first time I heard the term 'compassion fatigue.' Having seen countless reports of medical personnel suffering from the hopelessness of saving many lives in this pandemic, I well understand the term as it applies to care for both humans and animals.
It appears that the American southeast has the highest concentration of euthanasia in the United States, and, consequently, the most compassion fatigue.
Since there is more demand for pets in the northeast, and too many in the south, we follow a group of southern people throughout the film who are arranging a caravan of dogs and other pets who would have otherwise been euthanized being transported from the south to the north. Their destination is an understandably impatient group of people excitedly waiting to receive their chosen pet. These people are committed to their new pet's care. The arrival of the caravan is the film's much welcomed climax. This southern fix is in. It's time now, to 'fix' the United States' mistreatment of animals.
A Southern Fix is one of four films under the RESCUE DOC FILMS umbrella.
Facebook 
(Photo courtesy of 'A Southern Fix')