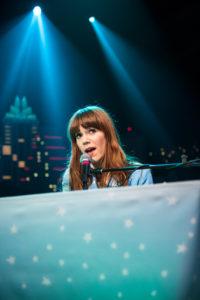 Keith Maitland's A Song for You: The Austin City Limits Story does just what the title indicates—tells the story of the legendary television show up until his documentary's 2016 release.
The film's de facto host is Austin City Limits long-time producer Terry Lickona. Although the primary focus of A Song for You is the PBS show—the longest running music show on television, Austin City Limits is more than a music show; rather, it is an international entertainment brand.
Since its PBS debut on October 17, 1974, emerging from the show's success are:
• Austin City Limits Music Festival
• A series of CDs and DVDs called 'Live from Austin, TX'
• The Austin City Limits store at Austin Bergstrom International Airport
• Austin City Limits Hall of Fame
• A digital archive at the Rock and Roll Hall of Fame and Museum in Cleveland, Ohio
• The expansion of the brand to Australia (Sydney City Limits Music Festival) and New Zealand (Auckland City Limits Music Festival).
In addition to this institutional expansion, the show itself has dramatically expanded its music genres from Americana to 'anything goes'—as producer Lickona says.
As of this writing Austin City Limits is in its 44th year of PBS broadcasts.
A Song for You is thoroughly engaging, fascinating and entertaining.
The film can be found on Amazon Prime.
(Pictured: Jenny Lewis)