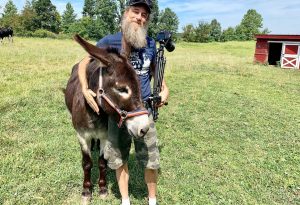 'Compassion: A feeling of deep sympathy and sorrow for another who is stricken by misfortune, accompanied by a strong desire to alleviate the suffering.'
Dictionary.com
There is no want for documentary films about plant-based, vegetarian, and vegan diets. A few of these films have found a relatively large viewership.
A Prayer for Compassion stands out by virtue of its intended audience—adherents to religious and spiritual traditions. Producer-director Thomas Wade Jackson has made a powerful call for us humans to consume a vegan diet. Although the film has a specific intended audience, it should be seen by one and all.
Jackson travels around the United States and the world speaking with a wide spectrum of religious and spiritual leaders, teachers, and authorities about the virtues and values of living on a vegan diet.
Pondering the film's topic, the first thought that came to mind was 'cognitive dissonance'—'the state of having inconsistent thoughts, beliefs, or attitudes, especially as relating to behavioral decisions and attitude change.'
When it comes to diet, and to the many documentaries I have seen about said subject, I live in an acute and chronic state of cognitive dissonance about the food I eat. I have no argument about the information I have received from these documentaries, and I have a great passion for the natural world, yet I am far from making what would be a radical, difficult, and challenging shift to a vegetarian diet, let alone a vegan one. I confess this with the understanding that I am not alone.
Despite my cognitive dissonance, I am deeply moved by Jackson's film, and I recommend it to all who come upon this review. The film's website provides a comprehensive list of resources about adopting a vegan diet. Click on 'The Challenge' and 'Links' icons at the top of the film's home page.
(Pictured: Thomas Wade Jackson and friend)