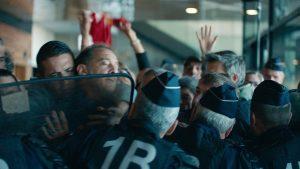 The vast majority of feature documentary films I receive are called 'streamers.' That is, instead of a DVD or Blu-ray disc, I get a link and a password, and watch the film on my computer. That annoys me, and the filmmakers do not provide much-needed Closed Captioning. But it's the only way can view and review.
I was pleasantly surprised when I received a sealed commercial Blu-ray disc from Cinema Libre Studio called "At WAR"—about an extended labor dispute in France. As I watched the film I was amazed at the access filmmakers had to all the private meetings between the adversaries.
I watch films cold. I don't need or want to read or hear about them. All I need is the genre. So, when I received "At WAR" I went right to it. When it came time to write my review I picked up the literature, and the first thing I noticed was that this is not a documentary, it is a narrative drama.
Although I was no longer amazed at the filmmakers' access to these warring parties, I am thoroughly amazed at the slice-of-life realism created by the filmmakers and their cast.
It is on that basis that I heartily suggest you see acting at its finest in support of a dramatic story of human conflict—a universal war between greed and human values.
"At WAR" is available on DVD, Blu-ray, and On Demand from several platforms.
Website: http://cinemalibrestudio.com/At-War/
Trailer: http://www.AtWarMovie.com
IMDB: https://www.imdb.com/title/tt7555774/reference