9000 Needles is a simple, straight-forward story which has a profound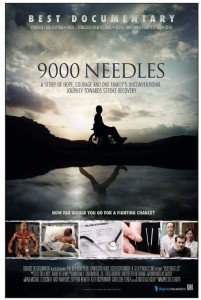 impact on the viewer – and equally profound implications about our American healthcare system.
It is the story of Devin Dearth.
The film's website introduces Dearth's life elegantly. "At forty years old, Devin Dearth is a successful businessman, a loving husband, father of three, a devout Christian, and champion bodybuilder. He and his family reside in the small community of Central City, Kentucky, where they live the ideal 'American Dream'".
The Dearth's had purchased 2 acres of lakefront property for their dream house. While working out one day at a gym, Dearth suffers a 'vascular event' in his brain leaving him paralyzed on the right side of his body, unable to walk, extreme difficulty speaking, and double vision.
Dearth is covered for only one month of inpatient rehabilitation services. His family does not have the financial resources to pay for the many more months of rehabilitation required to recover a significant amount of physical functions. Health insurance does not cover the services required.
Living at home, his wife providing most of his care, Dearth's prospects for recovery are bleak. His brother, Doug, proposes a journey to Tianjian, China, where there is an affordable 3-month rehabilitation program integrating Western and Chinese medicine. Doug is the film's director, editor, and co-producer.
After the very first day of treatment Dearth is able to move his right leg for the first time since the event. His progress over the three months is dramatic, astounding. At the end of the story, back home from China, working out again, Dearth addresses us, for the first time in the film, sharing his hope, courage and determination.
We're left with a thousand kinds of amazement, an equal number of thoughts about our healthcare system, and wondering how Devin Dearth is doing now.
http://www.9000needles.com