Our Heart and Soul
by Carole Dean
When I founded From the Heart, I always felt it was more than just an organization certified as a non-profit by the government.   There's a reason I put Heart in the name.   I put it there because I knew it would touch and help the lives of so many people.  And, like anything with a heart, it also has a soul.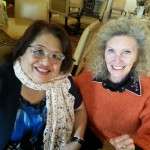 From The Heart Productions reaches throughout the Universes (both Known and Unknown) to assist Filmmakers in the journeys from idea/concept through finished product. It encourages and supports the concepts of visual voice, creative soul, actualizing human potential, social justice and equality, extended education, industry and government transparency and anything and everything else that improves and enhances the human experience.
The Heart of From The Heart Productions contains kindness, generosity, support and understanding for filmmakers from concept through finished product. It's deepest desires provide the place and space for them to create a deeper awareness and understanding of their projects and themselves. Filmmakers know they can trust From The Heart Productions to assist them with their film funds, fundraising activities, ideas and dreams, and finished products.
The Soul of From The Heart Productions creates unique classes and educational opportunities that keep filmmakers current in trends and technologies as well as providing practical information to raise money for their films. This unerring dedication creates long term relationships and an ever-expanding pool of industry experts as contributors to the grants and classes.
The Imagination of From The Heart Productions chooses to create $10,000,000 of fiscal sponsorships each year, sponsors Academy, Sundance, and Tribecca Award Winning Films and Filmmakers, and gives multiple grants to filmmakers each year.