Interviews – Faun Kime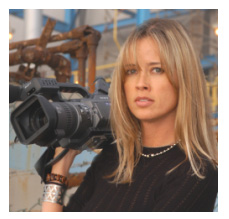 Faun Kime is a graduate of the University of Southern California's Marshall School of Business. While in school, she appeared in many national and foreign television commercials, but found she was far more intrigued by the "behind the camera" experience.
Out of school, Faun embarked on producing a number of industrial videos for charitable organizations. She went on to produce for Paramount Digital Entertainment, and served as juror in the screenplay competition for Slamdance Film Festival. Most recently, Faun was associate story producer for Fox's "Trading Spouses." The Tomato Effect is Faun's first feature documentary film.
---
Tell me how you raised $10,000.00 in a funding party—how you found your sponsors and your location.
The location was a non-profit organization in San Francisco that had a screening room and I had to pay for the location, so, it was a little risky doing that. But I wanted a bit of a splashy event for PR purposes. I would say if somebody wants just a straight fundraiser, they might not want this expense. We got a lot of press from this event in San Francisco Magazine, a magazine called 7 X 7, and some of the local newspapers.
Advertising is important to your fund raising. Plus, it raises awareness on your film.
Ideally you can do both. I paid something to the tune of $700 for the location. Once I had a location secured—and it's a really well known, nice location up in San Francisco—then I started talking to sponsors. I did like any producer might do, saying: "Oh, Sky Vodka is on. Sky Vodka will be the alcohol sponsor." And I was talking to Uptown Catering, even though Sky Vodka hadn't totally committed yet. So, then I got my catering company to come on and they came on at well below cost. I only paid about $300 for a beautiful catering job.
Wonderful!
So, I secured my catering, I secured my alcohol and my wine, and those are the real big components. But then also in securing those sponsors, I was throwing around Steve Young's name, even though I didn't know for sure he would come. He's a kind of a local—certainly in San Francisco—celebrity football player. That helped as well. And then, the more people that would come on, then the more I could encourage others to come on. Most of the people who were giving me maybes did finally come on.
Did you have to send them anything in writing, or did you do this all on the phone?
I have my Website that I could direct people too, and I had press kits. I did little press kits with a press release sheet that said, "Where, When, Why, What"—Where: Delancy Street Foundation; for What: Fund Raising for The Tomato Effect; When or Why: because The Tomato Effect is an important documentary. I also included "Who": Steve Young; Senator Jackson Speer; former mayor's wife, Kathleen Aliota—any prominent local society name that I knew would be coming.
So you think other filmmakers should focus on the silent auction?
Oh, the silent auction is great! The thing is, if people are going to be paying for these things anyway—a hotel stay, or a yoga package, or something like that—why wouldn't they bid for them? I mean, it's the KCRW strategy. They have these fund drives where they offer dinner for two at Wolfgang Puck's, and people will call in and they'll pay their $50. It's tax deductible; it's going towards a good cause, and they're getting something they'd pay for anyway. It's a no-brainer.
It's Brilliant! It's a successful way to raise funds and get cash, which is one of most important things you need when you're making your film.
Exactly.
(The full interview with Faun is in Carole's new book, "The Art of Manifesting: Creating your Future.")